Hello all,
In this update, we have designed a brand new main website for GunColony, designed to be much more clean, informative, and performant. In addition, we have also moved the server to new machines at our host for increased performance.
NEW WEBSITE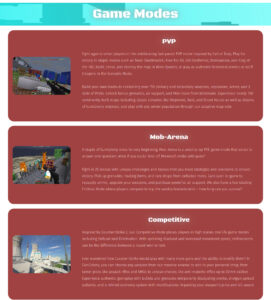 In this update, we have designed a brand-new website for GunColony.
It is still based on WordPress, which means that the blog will inherit all of the content and posts from the previous website. However, we have completely built this website from scratch with a new design.
This website is mainly designed to offer greatly increased performance and faster page load time compared to our previous site. From our testing, load times are cut from 3-5 seconds to about 1 second for the homepage. This results in a Google Lighthouse score improvement from about 50 to 90 points.
The speedup was achieved through using the new Gutenberg editor rather than a page builder for the homepage, using fewer plugins, and enabling page caching. In particular, the page caching was made possible by changing the server player count widget from a server-based one to a client-based NameMC widget, which allowed the page itself to be cached as it is now fully static.
In addition, we have greatly improved our home page to better describe the unique features of the server, especially the gamemodes available, as well as a few extra points that we feel set GunColony apart from practically all other Minecraft FPS servers out there.
We have also removed the MovementFix mod download from the homepage, as it is no longer necessary for newer Minecraft versions such as 1.19.4 or 1.20.1.
Going forward we will aim to revisit the website more in the future, especially in terms of adding multimedia content. Suggestions are always welcome on Discord!
NEW SERVER HOST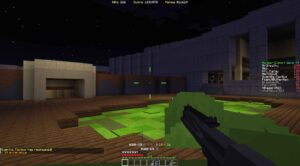 For the first time in over 2 years, we have moved the server to an updated hosting machine. The main difference is that our CPU has upgraded from the Ryzen 3600X to the Ryzen 5600X, resulting in a roughly 20-25% improvement in performance.
GunColony already had pretty good performance in most cases, so the decision to upgrade was mostly down to our host offering a big sale for game servers. We essentially upgraded to two game servers for the price of one, which are each faster than our previous server. (The other server is currently not being used for GunColony.)
You should still be able to notice the improved performance in a few cases. First, when someone loads a new Mob-Arena map on your Mob-Arena server, you will now experience a shorter lag spike than before. A select few modes also previously had the potential to stress the server enough to drop below 20 TPS despite our optimization efforts, namely Endless Mob-Arena and mutated Mine-Spades modes on high-population lobbies. You should now see less server lag even in these extreme cases.
The new server is in the same datacenter as the previous one, so you should have the same ping as before.
POTENTIAL ISSUES
The NameMC widget on the website homepage that displays the server player count may take a while to become functional
If you previously used a numerical IP rather than the domain "guncolony.com", you will have to change your domain back to "guncolony.com".
There had been an issue regarding players' primary weapons being replaced by swords from the arena plugin in PVP, but this has since been fixed. Please report it on Discord if it ever crops up again!
There may or may not be issues with voting (with /vote). This has been a common issue during past host transfers but we have tried to keep it working during this host switch.